The European Balloon Festival is an international meeting of hot air balloons held for the first time in 1997 in Igualada. Since then it has become a competition and a benchmark in Europe.
The festival is held in the first fortnight of July in Igualada and over four days (from Thursday to Sunday) gathers more than fifty hot air balloons with their teams from around the world, and over 25,000 visitors.
The European Balloon Festival is a concentration, a competition and a balloon festival, that brings togheter the fun aspect of the flight, the beauty of the sport and the competition. During the four days of the festival, visitors can enjoy the show to see more than 50 balloons fly, participate in the programmed activities or fly in a balloon while the participating teams perform different exhibition and competition tests.
The flights take place in the early morning and late in the afternoon because that's when weather conditions are best for hot air balloons.
---
Organization: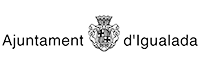 Sponsors: